"Ken Aihara is one of the finest synth soloists I've played with, and his compositions have incredible depth."
Evan Marien (Bassist, Allan Holdswoth, Virgil Donati)
"Participating in the making of Ken Aihara's debut album Multiverse was a great pleasure, as well as a musical challenge. Mr. Aihara's music is
eclectic, complex, energetic yet supremely listenable!
The compositions on Multiverse make a great deal of musical sense, while Mr. AIhara's skill as a band leader ensured a good balance between imposing necessary musical requirements and leaving room for his band mates' creative input.
I am sure this album will get Ken Aihara the attention he deserves as a virtuoso keyboardist, composer and a band leader.
I look forward to playing this music live!"
Marko Djordjevic (Drummer, Matt Garison, Wayne Krantz)
"What composer and pianist/keyboardist Ken Aihara has accomplished on his debut record Multiverse, is a perfect marriage of chops and rhythmic and harmonic complexity with tuneful, singable, often pretty songs. In addition, his use of keyboards and synths is thoughtful and always done to serve the music first."
Bob Lanzetti(Guitarist from Snarky puppy, 3times Grammy Winner)
PROFILE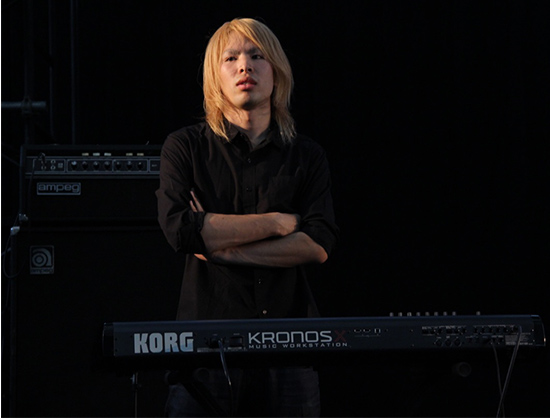 Ken Aihara is Boston and New York-based Japanese Multi-Keyboard player/Composer/ producer and Sound designer.
Ken mixes different elements of music (Jazz – fusion, EDM, Rock, etc..) to create his own style. Also, his performance produces deep and energy sound. Called "New type of keyboardist….. such as keyboard beast!!"
Ken started keyboard at age 3. From childhood, concerning his father's work, he has spent summer in Europe and have a global perspective.
Ken attended Osaka University of Art(OUA), Electronic keyboard major in Japan. While Ken studied keyboard techniques and he was inspired by progressive rock and Jazz-fusion. During his time at OUA, Ken won the first prize in the various band competitions and he had the best keyboard award in Osaka University of Art graduate concert.
After getting a degree(B.E), Ken attended Berklee College of Music.
Ken studied Piano under Steve Hunt(Allan Holdsworth), Mark Rossi(George Russell), Dave Limina(B.B. King), to name a few. He also studied electronic production design major for sound design, mix engineering, audio programming, and post-production works.
Ken graduated Cum Laude from Berklee College of Music and he moved to New York. He got opportunities to play with top New York musicians. Also, Ken played synth & sound design for drummer Tomo Hasebe 's on the album with Oz Noy, Isamu McGregor(Richard Bona)and Mike Marciano(Two times Grammy winner).
In 2018-2019, Ken released Jazz- Fusion Album "Multiverse". This Album 's credits include a Bob Lanzetti (Snarky Pappy, 3-times Grammy winner), Evan Marien(Allan Holdsworth, Virgil Donati), Marko Djordjevic(Matt Garrison, Wayne Krantz) and Aaron Nevezie(Nerve-Jojo Mayer, Emmy Award-nominated).
He did organize, all compositions, arranging and play keyboard for this Album. His achievement on keyboard skills and compositions were highly evaluated by all of them!
VIDEOS
MUSIC